Sponsors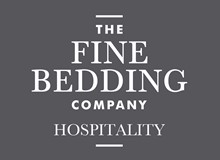 The Fine Bedding Company
Bronze Sponsor
http://finebeddinghotels.co.uk/
The Fine Bedding Company is a family owned, fourth generation business with more than 100 years' experience in the innovative design, manufacture and supply of top quality duvets, pillows, mattress toppers and mattress protectors to the hospitality sector.
Through our Hospitality Division, the Fine Bedding Company delivers comfort, high quality and environmental credentials your guests will love, as well as accountability, customer service and lower housekeeping costs. We have years of expertise in the hospitality industry and we understand that, as hoteliers, you're always looking for practical, cost-effective and durable solutions.
We manufacture and supply our own exclusive product ranges, designing and innovating with your needs in mind.
Want an example?  Our revolutionary Smartfil® non-allergenic bedding has the luxurious, cosy feel of natural down for a blissful night's sleep. When your guest has checked out however, your housekeeping team will find Smartfil® lightweight – and washable. Our fast-drying pillows, duvets and mattress protectors can be hygienically laundered at 60oC: fresh, clean and back on the bed, same day. Smartfil® can withstand repeated washing, holding its form and plumpness beautifully. Its lightweight, low-density fibre means it will compress sufficiently for in-house laundering, and require less space when in storage. We offer a range of weights, finishes, fillings and custom sizes, for a truly bespoke service.
And like you, we take our corporate social responsibility very seriously. We're setting the standards in our industry for use of certified renewable energy, rigorous waste management and ethical sourcing of materials.
---