Supporting Partners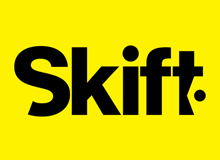 Skift, as a company is about that transformation - that shift into the future of travel - and we are the information and intelligence brand at the centre of it.
We launched in August 2012, with the big ambition of becoming the daily homepage of the global travel industry. Our underlying premise was to be fanatically focused on documenting and helping the travel industry understand the changing traveler behavior. From the two founders who launched the company out of their bedrooms to now 56 people on the Skift team in a light-filled New York City office, we have grown into the biggest business intelligence brand in travel. 
We raised about $2.5 million from marquee seed investors and venture groups, and three years later we are a multi-product, multi-platform, profitable and fast growing company. Read the 4000-word story about our journey to profitability: How We Got off the Addiction to Venture Capital and Created Our Own Way to Profits.